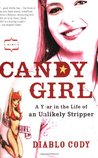 Candy Girl: A Year in the Life of an Unlikely Stripper by Diablo Cody
My rating: 3 of 5 stars
A brave attempt to venture into a sordid industry and make it out the other end. And to think Brook Busey aka Diablo Cody went on to win an Oscar for her screenplay, Juno. This book was not a bad read but not stellar either. A quick, easy breezy book to get through in no time.